Audio CDs

Prior to starting
fusecon
I produced the
Escape
and
Freedom
CDs. The
audiophonik
CD was a collaboration between Imphobia and fusecon. If you like this type of music there is quite a bit of "scene" related music out there. You can find some at
maz-sound
,
c64audio
,
Lynne music
,
Chris Huelsbeck productions
, and
Xerxes music
. I stopped updating my scene CD database back in 2002 when there were perhaps a hundred or so audio CD's. The database, sorely outdated, has been taken offline. With iTunes and MP3's scene musicians can put up their own website and give away or sell right from their own website. The CD is, unfortunately, a dying medium. Enjoy the music.
---
Escape CD (Data and Audio)

Released November 1994
the
Escape
CD is one of the first, if not the first, demo scene CD. Five hundred CDs were pressed within six months and two press runs. The final edition of this CD sold for $5, came in a plastic viewpak with photocopied art and green/yellow label art.
The original contained black/blue label art and came in a jewel case with artwork done by various scene artist. The mixed mode CD contained 210 megs of demo/music related files and 40+ minutes of music--most coming from Christopher Mann's
Music Contest 2
. The original price of
Escape
was $9 not including postage. This CD is
SOLD OUT
.
You can find a full archive of Escape here.
---
CONTENTS
1. CD-ROM DATA 210 megs
2. FAREWELL - Snowman
3. DISTANT VOYAGE - Markell Moss
4. GUARDIAN OF SOULS - Krystall
5. ESTRANGED - Khyroo
6. MAXIMUM OVERLOAD - Jenkins
7. LOST IN MY FANTASY - Clement Poon
8. FUSION HARMONY - Donovan Seidle
9. WISH THIS SONG HAD A NAME - Protocol
10. ADRENALIN - Trash
11. DELIVERANCE - Jedi
12. TAKE ME TO THE NIGHT - Krystall
13. STORY OF FAITH - C.C. Catch

---
Freedom CD (Data and Audio)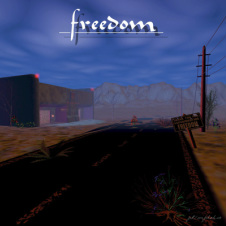 The sequel to Escape CD was released 13 Oct 1995
and sold out all 800 copies within three months. The $12 (including postage)
Freedom
CD contained art by various scene artist, music from Christopher Mann's
Music Contest 3
winners, and 500+ megs of demo scene related material (code, graphics, music, demos). The
Freedom
package included a dual jewel case, six panel insert, two CDs (audio, data), and a vinyl sticker. This CD is
SOLD OUT
.
You can find a full archive of Freedom here.
---
CONTENTS (Audio CD):
1. KINGDOM SKIES - Jase
2.
THE CROSSING
- Necros
3. DRIFT - Nemesis
4. WANDERLUST - Leviathan
5. SECOND THOUGHTS - Big Jim
6. SENDOFF FLIGHT - Markell Moss
7. CAN'T FAKE MICHELLE - Snowman
8.
BABEWATCH
- Ryan Cramer
9. FATE - Roberto Barabino
10. FORGOTTEN DREAMTIME - Firelight
11. PHOEBE - Esper Division
12. BETRAYAL OF INNOCENCE - Future Assassin
13. BITS AND BYTES - Mayhem
14. UPWARDLY MOBIL - Morph
15.
RESPIRE
- Sypder
16. ATLANTIC SHORES - The Rew
17. THE RAINY ROAD - Cybelius
18. RESPIRATOR - Zodiak
19. ALL I FEEL IS HATE - Jason and Kristen
20. NIGHT OF DREAMS - Krystall and Cynthia
*Sample audio in the very old
Real Audio
format so it may not work with your browser.
---
audiophonik - music for the scene generation (CD)

audiophonik is best described as a CD consisting of talented musicians whose songs were first widely heard by those involved in the computer demo scene. All of the songs on audiophonik were created electronically and would be labeled as having an ambient to light techno sound. Perhaps even that labeling does not do the sound justice. You'd be better off if you can just accept the sound as "a different kind of electronic music."

The CD came in a clear jewel case along with a 16-page booklet that has pictures and bios of all the musicians (12) and project directors (2). The music was created by the musicians who live in various countries around the US and Europe. The mastering took place in the Netherlands and the printing/pressing took place in Belgium.

The audiophonik CD (f-imp 0001) was released on 23 Nov 1999 as a Fusecon and Imphobia a.s.b.l joint project. It sold for $13 US.

CREDITS
Project directors : Dan Wright & F.J. Van Audenhove
Digital mastering and arrangement : Victor Van Vlaardingen (Vic) at Spiked Studios
CD booklet/covers artwork and design : Pascal Loef (PL)
CD label artwork : Roberto Christen (Xten)


---
TRACK LISTING (FULL MP3 songs (192kbps) are available by clicking on song name)
1. flow - Frederic "Moby" Motte (France) 9:36
2. nr24 - Victor "Vic" Van Vlaardingen (Holland) 5:41
3. spectral vision - Christophe "Rez" Résigné (France) 4:33
4. *giving tree - Alexander "Siren" Brandon (USA) 5:55
4. giving tree (CD ver) - Alexander "Siren" Brandon (USA) 5:55
5. overture - Jogeir "Jogeir" Liljedahl (Norway) 4:53
6. little monkey - Gustaf "Lizardking" Grefberg (Sweden) 4:43
7. gate 99 (last call) - Erik "Zodiak" Stridell (Sweden) 4:05
8. pulse - Andrew "Necros" Sega (USA) 5:17
9. third millenium - Anne "Lluvia" Haessig (France) 5:18
10. ephemeral wanderer - Kenny "CC Catch" Chou (USA) 5:19
11. space deliria - Bjorn "Dr. Awesome" Lynne (England) 7:26
12. cocoon - Adam "Scorpik" Skorupa (Poland) 7:29
Total Time - 70:15 mins
* = Special full version of the song (112kbps)--a little different than the CD version.